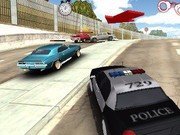 Play our Fun Car Chasing Games
NiceCarGames.com can offer nice hand-picked collection of online car chase games. When you play our high speed chase games you will feel the rush of what it's like to have some chasing you at high speed, or you can choose to be the one chasing the bad guys. Whether you enjoy hot pursuits, escape missions, road rage or a high speed chase we have the perfect car challenge for you. On our gaming website you get to enjoy the act of high-speed vehicular pursuit.
Get an Adrenaline rush with our Car Chase Games
These challenges put your online driving skills to the test. Step on the accelerator, and practically fly to catch up to your targets in some of these online games. In others you get to customize you ride. As you progress, many of these webgames give you the chance to upgrade your engine. The faster you drive, the easier it is to catch criminals!
High Speed Chase Games Are Addicting and Fun
Evade the police, take down the bad guys, or go on a rescue mission. These are all important aspects of the car chasing genre. Often the controls for a typical high speed chase games are easy to get used to. Simply use your keyboard to accelerate, brake, and steer your pursuit vehicle. Hours and hours of countless fun are at your fingertips, with little-to-no learning curve.
include "../ads/rightresad.php"; ?>
Like us on Facebook
//include '../ads/matchedcontent.php'; ?>