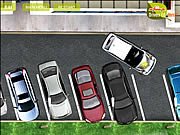 Play the Most Fun Parking Games for Free
A nice hand-picked selection of fun parking games are at your fingertips at NiceCarGames.com. Test how good you are behind the wheel, and run a race against time to park on the right, oblique and parallel spaces. You should try to avoid traps, fender benders, other obstacles in your path. In a matter of seconds, you'll be racing to park cars in city lots, on side streets, and even in special garages. Whether you enjoy 18 wheelers, cars or trucks, we have the perfect online challenge for you.
Our Parking Games is all about Perfection, Control, and Maneuvering
Parking is the process of bringing an operational as well as an approved vehicle, such as a car, to a standstill for an indefinite period of time. In all these online challenges, your driving and parking skills are put to the test. You also have to run a race against the clock to park on the right, oblique and parallel spaces. You'll be challenged to master many different aspects of parking, such as squeezing into tight spots, controlling larger vehicles, and avoiding obstacles.
Game-Play in our Car Park Html5 Games
Gameplay in car park games varies from one html5 game to another. Traditionally, you will use the arrows on your keyboard to steer the car. In some online html5 games, you can click the mouse to accelerate and brake while driving through fully interactive environments. At NiceCarGames.com hours and hours of countless fun are right in front tip of your nose, with little-to-no learning curve. Enjoy showing off your car park skills!
Become a Pro Parking Cars and Trucks
This category includes having fun with all kinds of vehicles. Try to park nicely a Ferrari or a Monster Truck. You;re also going to visit different cities and even countries. Your main goal is full control. Avoid the obstacles and try to make it on time. Show how cool you are in various environments. Straight, parallel, and slanted spots can be quite tricky. Apply your knowledge of real world physics. Improve your forward thinking and reaction. Master your ability to use the given space with maximum efficiency. Swerve in and out among the other cars and pedestrians. Try not to cause an accident. Combine practicing with pleasure with the help of this set.
include '../ads/rightresad.php'; ?>
Like us on Facebook
include '../ads/matchedcontent.php'; ?>