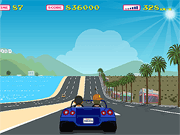 Thug Racer Game Online - Play Free Fun Car Chase Games
In a world where two wannabe thugs, Ratty and Weasel, embark on an epic driving journey, their inspiration drawn from the golden era of 80s arcade classics. As the engines roar to life, brace yourself to feel the exhilarating rush of speed as you hurtle across the tracks. It's a high-octane showdown where you must outpace your rivals, racing toward any of the five electrifying goal lines – the choice is yours, and the stakes couldn't be higher. But beware, for lurking along the way are treacherous speed traps, and the relentless police are there to uphold the law. You're not going to make their life easy, partner. Have fun!
10,955 play times
How to Play Thug Racer Game
Use left and right arrow to steer. Down arrow to brake.