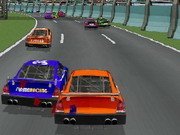 Play the Most Fun Racing Games Online at NiceCarGames.com
It is time to put the petal to metal and burn some rubber with our nice hand-picked online collection of free online racing games. Speed down our virtual streets, race tracks, or off-road paths and beat your components and in some of these you can even compete against a friend. We have the perfect racing challenge for you. Go from 0 to 60 mph in mere seconds and try to set a new speed record while you navigate through our race tracks in style. Hours and hours of countless fun are at your fingertips.
Enter a Fast-Paced Adventure with a Racing Cab
Driving a cab is a fast-paced adventure, full of challenging obstacles and pedestrians. In our cab html5 games, you can get behind the wheel of a yellow cab and race through various cities. You can score points and earn big virtual money without even having a license. Just use your keyboard to accelerate, brake, and steer your vehicle. Race through New York under the noonday sun, or work the midnight shift in your own cab. You'll have tons of fun in our online cab challenges as you get your customer to their destinations before time runs out. Hours and hours of countless fun are at your fingertips, with little-to-no learning curve.
Racing Games Are Addicting and Fun
Driving a cab is much more than just a race; once you get to your destination, you'll face other fun challenges, such as parking in a tight spot. In our levels, you can isolate and practice just these challenges, parking in various situations without damaging your cab. Collect bonus fare for more difficult parking jobs, and rack up a big, virtual paycheck in our free taxi games. At the end of the day, collect your virtual money and enjoy a new high score!
include '../ads/rightresad.php'; ?>
Like us on Facebook
include '../ads/matchedcontent.php'; ?>