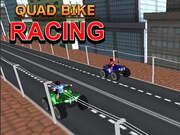 Quad Bike Racing Game Online - Play Free Fun Racing Web Games
Get ready for some quad racing action. Play Quad bike racing on amazing racing tracks. Drive your quad and race against other quads. Your objective is to be the first one to cross the finish line. Show that you have the skills to win. Do you like quad bike top speed race and motorcycle drift race on fast tracks? If Yes, then you have to play with multi selection option Quad Bike Racing with violent and uncontrollable racing manner on impossible racing tracks. Have fun!
11,045 play times
How to Play Quad Bike Racing Game
Use arrow keys or WASD to move the quad bike.
The Best Sports Quad for Riding on Trails
A lot of people consider the Honda 400EX quad to be the best for riding trails, hands down. It is considered to be the most reliable, easiest to handle, and also has the best parts availablity. What is so great about the Honda is that it can take good beating and it will still just keep going. With a machine like that you can run through hell and back and it will still keep going, it is just amazing. You can also use this quad for a race but it is a lot better on trails.