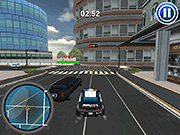 City Cop Simulator Game - Play Free Fun Police Web Games
City Cop Simulator is a fun game of doing the job of a city cop. Are you up to the challenges of being a city cop? Prepare for a multiple challenges to test your ability to drive fast and perform missions. These missions involves the ability to drive at all scenarios including high speed chasing, escorting the VIP and racing to catch enemies. But there is also a racing for fun with other police cars where you have to get to the finish line first to pass the level. Do your job as police! Can you handle it? Chase and arrest felon! Upgrade your police car and maintain peace and order in the city. Have fun!
10,116 play times
How to Play City Cop Simulator Game
Use the arrows or WASD keys to drive. Spacebar for handbrake, N key to activate nitro, L key to start your siren, C key to change camera. Esc. key to pause the game.
Begin a Police Officer in the City is an Important Job
Being a police officer in the city is both challenging and rewarding. It involves a constant balance between maintaining law and order while ensuring the safety and well-being of the community. City police officers are often faced with a diverse range of situations, from routine traffic stops to handling major incidents, such as crimes or emergencies. The job requires a strong sense of duty, integrity, and a commitment to upholding the law. It also demands excellent communication skills to interact with a wide variety of people and diffuse potentially volatile situations. While the role can be physically and mentally demanding, it provides a unique opportunity to make a positive impact on the community by promoting peace and security. Being a city police officer requires dedication and resilience, but it is a vital and honorable profession that plays a crucial role in maintaining the urban way of life.