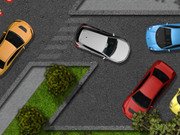 Time to Park Game Online - Play Free Fun Parking Web Games
Even if you've never been at the wheel, you'll love it. Nicely drawn and easy to understand it will cheer you up. Enjoy the combo of entertainment and functional use. Drive a car through city streets and park it into marked parking spots. Do not drive off the road and avoid hitting other cars or obstacles. Have fun!
11,192 play times
How to Play Time to Park Game
Use arrow keys or on screen buttons to drive. Park the car into marked parking spot. Welcome to the parking lot. Here you'll learn to use the space with maximum effectiveness. Complete various missions, spending as little time as possible. That will help you get 3 of 3 stars. Your goal is to make it right to the marked spot. At first, it may seem difficult, especially for beginners. But after a while, you'll become an experienced driver. And that feels so rewarding.
Online Car Park Challenges are Personal gym for your mind
A good time management game is more than just a source of joy. Though this purpose is great and valid there is another one. You literally train your brain for a better real-world operation. Increase your productivity for studies or work while having fun. If only all the useful skills could be improved in such an enjoyable way! Plus, this one adds even more in terms of development. Learn the basics of parking and apply them later.