Wild Animal Transport Truck Game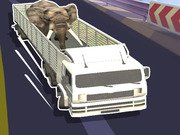 Wild Animal Transport Truck Game - Play Free Fun Truck Web Games
Some people consider freight transportation easy. Just drive something from point A to point B. But, they forget to think about the cargo, and what kind of cargo it is can really affect the difficulties. In this free online game you get to work for a company specializing in wild animal transport. Are you a truck lover and want to drive an offroad truck then you are in the right place. As a professional truck driver, the Zoo asks you to transport different animals to the marked locations at all ten levels in a 3D truck driving simulation game. In a limited time, which is definitely enough for you to drive, you need to drive stably on the track to the marked parking lot. As long as your truck falls into the lake, the game will lose directly. In this offroad pet animal transporter truck simulator game, you will not only transport farm animals but you will also face the parking mission as you have to park your truck. Have fun!
11,054 play times
How to Play Wild Animal Transport Truck Game
PC: WASD or D-pad to move Mobile: Tap buttons. Most driving simulators focus on speed since the core of their gameplay revolves around racing. This one is different: being fast is not as crucial as being safe. Your goal is not to outperform the competition. But to deliver the goods safely.