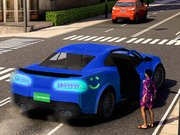 Uber Driver 3D Game Online - Play Free Fun Taxi Cab Games
Uber Driver 3D is a marvelous city taxi driving game available for you. Multiple cars and realistic scenes combine to the whole game. Keep the brain occupied and obey traffic rules. A friendly passenger may call your taxi. Earn enough money for new taxi. Have fun!
13,403 play times
How to Play Uber Driver 3D Game
Use WASD or Arrows to drive, Space - handbrake.
Why Uber is so Expensive
Dynamic pricing takes effect when a lot of people in the same area are requesting rides at the same time. This means that rides will be more expensive. Adjusting the price attracts more driver-partners to an area so everyone can get a ride. If your pickup point or destination change after you request the trip, your fare will be charged based on the time and distance of the actual trip. Heavy traffic may cause your trip to take longer than expected and to compensate your driver for the additional time, your fare may change. Uber can charge whatever they want now. Basically, Uber charges whatever the rider is willing to pay. It isn't based on time and distance anymore.
Why do Taxi Drivers hate Uber
Uber exploits loopholes in a system that private hire or yellow cabs have to stick to. Uber and ride share companies use a false economy because they have sold the public an illusion that will not sustain. They have temporarily made up a situation where by the company AND the driver subsidize the cheap price of the ride. The company is doing what it can to kill off competition by subsidizing with start up money (that will have to be paid back or they lose credibility with investors) and by the drivers who are destroying their cars in order to get fares. The essence is that every so often a firm comes along and breaks the supposed monopoly, uses technology to upset the apple cart, and nobody likes that - unless you are the company or customers of the company causing the disruption.