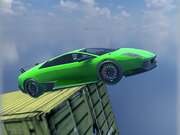 Extreme Stunt Game Online - Play Free Fun Stunt Car Games
Prepare yourself for an adrenaline-pumping adventure like no other, as you dive headfirst into the heart-pounding world of Extreme Stunt Car Games! Channel your inner car stunt maestro and take on the mind-bending challenge of conquering treacherous tracks that defy all logic. In these exhilarating car stunt games, you have the power to choose your ultimate thrill machine and embark on a white-knuckle journey through the most demanding car stunt races imaginable. Brace for a rollercoaster of excitement with jaw-dropping gameplay and levels that will push even the most seasoned stunt car driver to their limits. It's time to unleash the madness, fasten your seatbelt, and prepare for an epic showdown as you scale towering heights in a dazzling array of high-octane cars. Have fun!
10,538 play times
How to Play Extreme Stunt Game
W or up arrow key = forward S or down arrow key = back A or left arrow key = move left D or right arrow key = move right Space = handbrake.