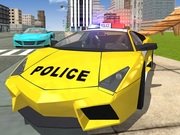 Police Drift Car Game Online - Play Free Fun Police Web Games
Ever wanted to drift a Police car? Well, this is your chance to drift around the city in a cop car and do whatever you want to and complete amazing missions. The latest 'Police Drift Car' is what we call limitless, drive and drift as fast as you can, drift through the city and perform some super stunts. The best part is that you can unlock various splendid cars but obviously for that, you need to collect coins. Let's see how daring you are going to be. Have fun!
10,561 play times
How to Play Police Drift Car Game
To steer your way, simply use the Arrow keys: press the up key to go faster, left and right keys to turn left or right, and the down key to apply brakes. The longer you drift, the more points you'll earn.