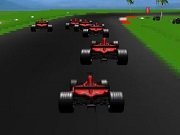 Formula Legend Game Online - Play Fun Motorsports Racing Games
In this free online game you get to race around the 3D tracks as you try and pass 6 other racers. You have to qualify 4th place or higher to unlock next cup. There are a total of 6 cups, which all has 3 difficult levels to choose between. Try with the least challening first, and work your way up to the harder difficulty levels as you are getting used to the controls. Do you have what it takes to become a legend? Have fun!
10,672 play times
How to Play Formula Legend Game
Use Up/Down arrows to Accelerate/Brake. Use the Left/Right arrows to Steer left and Steer right.
Formula One Legends Pushing the Boundaries of what's Possible
Formula One racing has been graced by a pantheon of legends, whose skill, charisma, and determination have etched their names into the annals of motorsport history. From the indomitable Ayrton Senna, whose fearless spirit and incredible speed made him an icon, to the relentless Michael Schumacher, whose unmatched work ethic brought him seven world titles, these legends have transcended the sport itself. Juan Manuel Fangio's grace behind the wheel, Niki Lauda's remarkable comeback from tragedy, and Lewis Hamilton's record-breaking achievements have all contributed to the rich tapestry of Formula One. These legends aren't just racers; they're inspirations, pushing the boundaries of what's possible and reminding us that in Formula One, the pursuit of excellence knows no bounds.