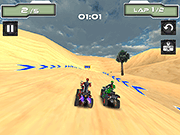 ATV Extreme Racing Game - Play Fun Motorsports Games Online
Are you an adrenaline junkie with an insatiable passion for high-speed ATV quad racing? If the asphalt and race tracks are your playground, then gear up for the ride of your life in ATV Extreme Racing! Immerse yourself in the heart-pounding action on exquisitely crafted racing circuits that will take your breath away. Feel the rush as you snatch power-ups to not only rack up valuable points but also propel your ATV into a turbocharged frenzy. Victory is your key to unlocking a coveted array of ATV beasts, and it's your time to shine as you strive to set the ultimate track records and etch your name into the annals of ATV racing history. Get ready to rev those engines and take the race to the extreme. Have fun!
10,146 play times
How to Play ATV Extreme Racing Game
Use arrow keys or WASD to drive. Spacebar to brake. C key to change camera view. R to reset the game. P key to pause/resume. M key to mute/unmute the sound.