Motocross Xtreme Stunts Game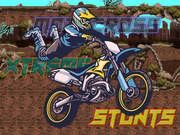 Motocross Xtreme Stunts Game Online - Play Free Fun Motocross Web Games
Prepare to embark on an adrenaline-charged motocross adventure like no other! Conquering this motocross masterpiece isn't for the faint of heart; you'll need to conquer all nine heart-pounding levels and amass points like a true daredevil. While you're at it, snatch up those gleaming coins and pull off jaw-dropping stunts that'll send your score skyrocketing into the stratosphere. Feel the rush as you balance your bike with the arrow keys or the sleek on-screen buttons, and brace yourself to unlock a dazzling array of new bikes that'll have you tearing up the terrain in style. Get ready to rev, race, and roar your way through this motocross thrill ride – the ultimate challenge awaits!
10,653 play times
How to Play Motocross Xtreme Stunts Game
Use arrow keys or buttons on your screen.
The Intense Action of Extreme Motocross Stunts
Extreme motocross stunts push the boundaries of what's possible on two wheels, leaving audiences breathless with their jaw-dropping displays of skill and daring. Riders soar through the air, executing gravity-defying backflips, heart-stopping cliff hangers, and precision-perfect whips. The roar of the engines, the rush of wind, and the sheer spectacle of these stunts create a sensory overload that epitomizes the audacity and artistry of motocross. These fearless riders, risking it all in the name of adrenaline and showmanship, continue to redefine the limits of what can be accomplished on a motocross bike, inspiring awe and admiration from fans around the world.