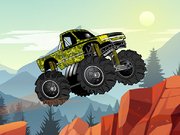 Monster Truck 2D Game Online - Play Free Fun Monster Truck Games
Need to let the steam off? Try to play Monster Truck 2d game. Very few things can compare to this contest. Perform as wild as you dare to. Here everything is possible. Don't restrain yourself. Leave the good manners for some other time. The crowd gathered to witness a mad performance. No one expects you to be polite. Play Monster Truck now for amazing fun!
10,475 play times
How to Play Monster Truck 2D Game
AD / right, left arrows to control truck W, up arrow or space to jump. The more damage you cause the better! Crush cars, boxes, and other obstacles. Gather them together and destroy everything with one clash. Balance on the top of hills. Conquer the craziest ramps. Your audience is craving for a show. Give it to them, and get rewarded.