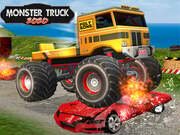 Monster Truck 2020 Game Online - Play Free Fun Monster Truck Games
Boost your monster truck and break the speed limits to perform dangerous stunts. It's a pleasant surprise for monster truck games lovers. We have brought a brand new speedy off road trucks race rally on this winter. The desert is set for the off road xtreme monster trucks and the off road stunts are about to start. Have fun!
10,810 play times
How to Play Monster Truck 2020 Game
Use arrow keys or WASD to play the game.
What is a Monster Truck?
A monster truck is a vehicle that is typically styled after pickup trucks bodies, modified or purposely built with extremely large wheels and suspension. Monster trucks are used for competition and popular sports entertainment and in some cases they are featured alongside motocross races, mud bogging, tractor pulls and car eating robots. A monster truck show sometimes involves the truck crushing smaller vehicles beneath its huge tires. These trucks can run up and over most man-made barriers, so they are equipped with remote shut-off switches, called the Remote Ignition Interruptor, to help prevent an accident if the driver loses control at any time. At some events, only one monster truck is on the course at a time, while most feature two drivers racing each other on symmetrical tracks, with the losing driver eliminated in single-elimination tournament fashion.