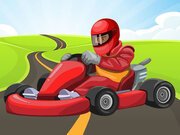 Kart Jigsaw Game Online - Play Free Fun Kart Web Games
Kart Jigsaw, folks, is a real hoot of an online puzzle game. Just grab that mouse and start sliding those pieces into their rightful spots on the track. It's like fine-tuning your kart for a big race – challenging, yet incredibly satisfying, and it keeps those gears in your brain well-oiled. Now, to unlock some top-notch racing pics, you'll need to invest a cool $1000, just like prepping your kart for the next race day. And here's the kicker: there are three modes for each pic, with the hard mode dishing out the big bucks. So get ready to tackle six awesome racing images and show off your puzzle-solving skills!
10,451 play times
How to Play Kart Jigsaw Game
Use mouse or touch the screen.
Fun Facts about Jigsaw Puzzles for Kids
According to PuzzleWebGames.com there are many fun facts to learn about jigsaw puzzles. A jigsaw puzzle is a tiling puzzle that requires the assembly of numerous small, often oddly shaped, interlocking and tessellating pieces. Each piece usually has a small part of a picture on it; when complete, it produces a complete picture. In some cases more advanced types have appeared on the market, such as spherical jigsaws and puzzles showing optical illusions. Typical images found on jigsaw puzzles include scenes from nature, buildings, and repetitive designs. Most jigsaw puzzles are square, rectangular, or round, with edge pieces that have one side that is either straight or smoothly curved to create this shape, plus four corner pieces if the puzzle is square or rectangular.