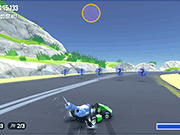 Fusion Karts Game Online - Play Free Fun Kart Web Games
Fusion Karts is one heck of a multiplayer 3D race, built for a rip-roaring time with 8 players revving up their engines. Get in on the action pronto and take on your buddies or go head-to-head with some wild racers from the track. Pick out your mean machine and give it that personal touch with a slick paint job. Keep your eyes peeled for those turbo-charged power-ups and lay down some sneaky surprises for your fellow speedsters out there on the track. Have fun!
10,051 play times
How to Play Fusion Karts Game
Use the arrow keys or WASD to drive, spacebar to drift, shift key to boost, and Esc. key to pause.
Feel the Adrenaline Rush of Racing around a Track in a Go-Kart
Driving go-karts is undeniably cool for various reasons. Firstly, the sheer adrenaline rush of racing around a track at breakneck speeds just inches from the ground is an exhilarating experience like no other. It offers a taste of the thrill that professional race car drivers experience, albeit on a smaller scale. Secondly, go-karting is a social activity that can be enjoyed by people of all ages, making it an excellent choice for friends, families, and groups looking to bond and have fun together. It's a perfect blend of competition and camaraderie. Additionally, the accessible nature of go-karting means that almost anyone can participate, from beginners to experienced drivers, providing a level playing field that encourages healthy competition. The combination of speed, skill, and camaraderie makes go-karting an unquestionably cool and memorable activity for all.