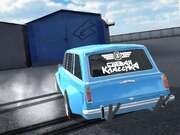 Lada Drift Game Online - Play Free Fun Drifting Games
Redneck's love drifting, and are always ready for a challenge, Russian Rednecks are drifting with a Lada. Have you ever wanted to build your own Lada, VAZ? Now here is your chance to customize your 2105 and take it out on the track for some drifting. Have fun!
12,311 play times
How to Play Lada Drift Game
Use WASD or Arrows to drive. Space - Handbrake. C - Change Camera.
Fun Facts about the Russian car Lada
The Lada brand appeared in 1973, initially being overseas-focused before becoming AvtoVAZ's main brand for all markets in the 1990s. Renault took control of the brand in 2016. Technical assistance from the French company started in 2008, after it acquired a minority AvtoVAZ stake. Lada was re-acquired by the Russian government in 2022. Russian-made and rarely reliable, the Lada Riva is universally agreed to be a bad car. Even so, it is also one of the best selling cars of all time. Excelling in its rugged simplicity, the Lada Niva is perhaps one of the most unstoppable and dependable SUVs anyone can buy, able to tackle off-road driving better than most expensive off-road machines as custom Jeeps can.