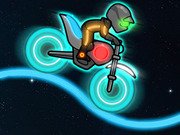 Neon Biker Game Online - Play Free Fun Dirt Bike Games
Get ready to unleash your inner daredevil with Neon Biker! This electrifying web game takes motorbike physics to a whole new level. Prepare for the ride of a lifetime as you embark on a journey filled with mind-blowing flips and tricks aboard your neon-powered machine. Buckle up as you navigate through mind-bending tracks filled with jaw-dropping jumps and gravity-defying loops. It's a whirlwind of excitement in this lightning-fast, physics-based bike racing game that will have your heart pounding with every twist and turn. As the neon biker, you're about to face one of the world's most treacherous and futuristic race tracks. The stakes are high, and the adrenaline is pumping as you guide him through neon-lit chaos. Can you keep him safe as he hurtles down this electrifying course, attempting the most insane stunts imaginable? The challenge is on, and it's time to prove your mettle in this high-octane racing sensation. Have fun!
10,463 play times
How to Play Neon Biker Game
Hold the left mouse button to accelerate. You must guide your bike through each level and perform stunts, jumps and tricks. Use your left click mouse button to accelerate and when you jump, hold the left click mouse button to perform awesome flips. You must time your acceleration carefully and try to avoid crashing.