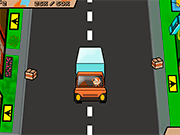 Happy Delivery Game Online - Play Free Fun Delivery Web Games
Experience pure joy with this thrilling simulator game that immerses you in the driver's seat of a delivery truck! Get ready for an exhilarating journey as you skillfully maneuver through bustling city streets and spread smiles by delivering packages to eager homes, using your unique tossing technique. With each passing level, the excitement escalates, putting your agility and strategic thinking to the test as you strive to maintain a perfect delivery schedule. Get ready to embark on an adventure that will keep you grinning from ear to ear. Have fun!
10,082 play times
How to Play Happy Delivery Game
Use WASD or the arrow keys to drive. Spacebar to throw. You'll need to navigate through city streets and deliver packages to homes by throwing them from your truck.