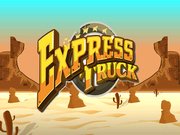 Express Truck Game Online - Play Free Fun Delivery Web Games
In the heart-pounding epic known as Express Truck, you're not just driving – you're forging a path through the unforgiving crucible of destiny! Your mission: to transport vital cargo to its final, awaiting sanctuary. But this isn't a leisurely cruise; it's a white-knuckle odyssey through treacherous, unforgiving terrain, where every heartbeat counts. Picture this: you're tearing through a landscape riddled with challenges, navigating rocky roads and tumultuous trails that demand the utmost precision. Speed is your ally, but caution is your sentinel, and the weight of that precious cargo rests solely on your shoulders. Every delivery is a symphony of adrenaline, a high-stakes gamble where risk and reward dance upon a razor's edge. For it's not just goods you're ferrying; it's the embodiment of hope and promise. The world awaits your triumphant arrival, and the clock is ticking. Will you conquer the chaos and deliver with unparalleled precision, reaping the maximum points that only true champions can claim? The fate of your cargo, and the legacy of your journey, rest in your hands. Have fun!
10,657 play times
How to Play Express Truck Game
Tap the left and right arrow keys on the screen or use your arrow keys on the keyboard.