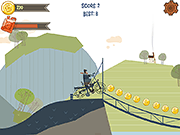 Biker Street Game Online - Play Free Bike Web Games
Embark on an epic biking adventure, pushing the limits of distance, and always keep an eye on your precious fuel gauge. The key to enduring this journey is to snatch every fuel bonus you encounter, replenishing your tank for the long haul. Don't stop there; amplify your ride's performance with jaw-dropping upgrades, turning your bike into a lean, mean, street-chewing machine after each daring escapade. And remember, fortune favors the daring – scour the streets for glittering coins to fund your transformation into the ultimate road warrior. Have fun!
10,486 play times
How to Play Biker Street Game
Up and down arrow to go forward and backward. Left and right arrow to tilt left and right.